Take Away
(Reversed Ready-Made)
For project 'Take Away' the artist will select and remove an object from the belongings of the buyer.
With a traditional sale of a work of art, the work of art is removed form the artist and become the property of the buyer.
With project 'Take Away' exactly the opposite happens. After reaching an agreement, an object will be selected and removed from the possessions of the buyer, by the artist. Artist and buyer agree that the artist has free choice in making his selection, motivated by the artist's personal and/or artistic considerations. The artist will for his part look after the object selected and retain it. The buyer has the right to visit this object, after making an appointment.
The buyer takes on a clear risk. He doesn't know which object the artist will take with him. He is buying an artistic and philosophical intervention into his personal environment. This raises questions like: How do I (the buyer) relate to my possessions. Do they possess me? Why did the artist choose this particular object? Could it be that this object will exist more strongly in my memory of it? What is its emotional value?
By being in the hands of an artist the object can gain artistic value. The material presence of the removed item will disappear, but the memory will remain.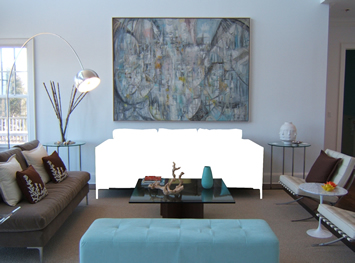 Price: €250,-
(can be sold several times)

Take Away
(Reversed Ready-Made)
Voor het project Take Away zal de kunstenaar een object uitkiezen en verwijderen uit de bezittingen van de koper.
Bij de traditionele verkoop van een kunstwerk wordt een kunstwerk aangekocht en wordt zo bezit van de koper.
Voor het project Take Away gebeurt het omgekeerde: na sluiten van de overeenkomst zal uit de bezittingen van de koper een object worden gekozen door de kunstenaar. Kunstenaar en koper spreken af dat de kunstenaar de vrije hand heeft bij het uitzoeken van het object, daarbij geleid door persoonlijke en/of artistieke overwegingen. In ruil daarvoor zal de kunstenaar zorg dragen voor dit object en het op een deugdelijke manier bewaren. De koper heeft hierbij het recht te allen tijde, na het maken van een afspraak, het object te komen bezichtigen.
De koper gaat een duidelijk risico aan, hij weet immers niet welk voorwerp de kunstenaar zal meenemen. Daar staat tegenover dat de koper een artistieke en filosofische ingreep in zijn persoonlijke leefomgeving aanschaft. Hierbij zijn vragen aan de orde als: Hoe verhoud ik mij (als koper) tot mijn bezittingen? In hoeverre bezitten ze mij? Waarom heeft de kunstenaar juist dat object gekozen? Bestaat het object misschien sterker in mijn herinnering? Wat is de emotionele waarde?
Bovendien kan het object in handen van de kunstenaar toegevoegde artistieke waarde krijgen. De materiële aanwezigheid van het verwijderde voorwerp zal verdwijnen, de herinnering aan het verdwenen object zal blijven bestaan.
Prijs: € 250,-
(kan vaker verkocht worden)
Simon Kentgens
Intellectual Entertainment Service
Take Away
The Morrona, universal Andalusian
Unspecified space, site specific work