Letter to Yves Klein
Dear Reader,
Art that is not physically present, what next… Art made from nothing or nothing called art, we've naturally given that deep thought in our now seven-year existence (as HuMobists). A lot of our art is devoted specifically to how we see and experience the world and 'art' is of course part of that. One of the most important concepts that we have ever formulated in our search into 'what art really is or is not' is: 'Everything exists, did exist and shall continue to exist''. You may in fact regard this to be rule 1 of the 'HuMobism Manifest'. Art that is not physically present does really exist and we owe you no further explanation. We do however continue to ask ourselves 'Is it?' because that seems to us the only requirement that a work of art has to meet at all costs in this day and age. Our preference is therefore for exIsting art.

We will on request send you a (signed) photograph on which we are.
Replying to your question as to whether we would like to participate in an exhibition on art that is not physically present but nevertheless available for sale, we are sending to you this Adobe PDF. This PDF is at the same time our submission, or our work. You may do with it as you please. You may for example exhibit this PDF, but you DON'T have to. You may moreover also regard this PDF as never having been sent by e-mail, even though we do. Briefly: how you intend to deal with this e-mail is up to you.
Oh, and about the price. There is a price.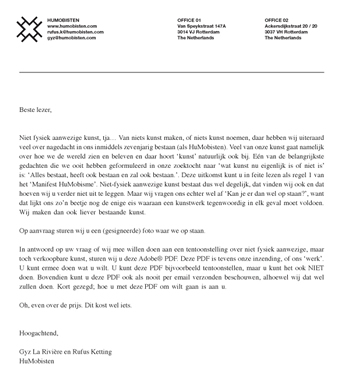 Yours sincerely,
Gyz La Rivière and Rufus Ketting
HuMobisten

Intellectual Entertainment Service
Letter to Yves Klein
The Morrona, universal Andalusian
Unspecified space, site specific work