A lifelong subscription to the closed part of a website
A walk through the Prado with the artist and 50 participants of his project "Hell is coming/World ends today"
Become an accessory to the unplanned
Create and destroy a work of art
De "I don't know" demonstratie
Discover a new family by registering now!
Enlightenment: Getting you there
Untitled
an immaterial artwork in conjunction with Andreas Templin's "Hell is Coming/World Ends Today", an intervention for the public space of Madrid, Madrid Abierto 2008
Introduction
The main drive of my artistic production is characterized by an impulsive use of a wide range of styles and gestures. The last public works of art I was able to realize ("storm scene", commissioned by the City Council of Nuremberg/Germany, "Monument for Donatella Versace" Chicago/Berlin 2005, "crashed satellite" 2006, several locations), which dealt with "second hand experience" as well as "unwished co-branding" remain as critical and diverse interventions of a distinguished art practice, which intends to be "post-productive". In the work "Hell is Coming/World Ends Today" I would like to show reference to the situational movement, its strong impact and continuous flow and, in relation to that, point to some of the common problems any movement seems to be afflicted by: The moment of its pure realization by an individual's mind vs. the competitiveness of styles, attitudes and trendiness of specific concepts in society.
In this case, the philosophical theses with, in my opinion, the strongest and most direct impact on the individual in the Western societies, are
- speed and devastation/ Paul Virilio
- "the camp/ the concentration camp"/Agamben
- "power"/ Foucault
- "hatred/fundamentalism"/ represented by Fred Phelps, right-wing preacher (in the form of a doppelganger)
are the elements of this ephemeral intervention in the public area.
I would like to transfer these philosophers into "labels" by asking residents of selected districts of Madrid to wear urban fashion items with label-prints for one week in their daily routine. While simply following their daily routine, the work of art itself will imbue the urban space, the philosophical concepts competing face-to-face with the other label-concepts in the public domain.
The question this work raises: Are these names already "labelized" (or would people simply acclaim them as being labels?) or do they convey meaning? Can such an ephemeral intervention survive as a work of art in the public perception?

Treatment
The project will continue for one week. 151 people (male & female) from different social backgrounds (all living in the inner city of Madrid) will be selected by casting. They will contract to wear the clothes specified for seven days.
The main condition for their participation in the work will be that
- they move around in the City of Madrid (in their daily routine)
- they fit the demanded profiles
Theses profiles are:
-50 joggers/sporty/young/healthy type
red "Paulo Virilio"- sporting dress/ long sleeve T-Shirt
-50 punk/"street level" "Michel Foucault"-
military camouflage jacket with pink "Michel Focault" -print
-50 hardrocker/tattoo/goth- "Giorgio Agamben"- hooded black sweater
- one doppelganger of Fred Phelps with body sign "Hell is Coming/World Ends Today" (front/back) and black suit/hat

With regards to the exhibition of works on immaterial art I would like to propose the following: I will walk the Museo Nacional Prado with the buyer of this performance work of art accompanied by 50 of the participants of the project "Hell is coming/World Ends today". This performance work, in which we will walk the Prado together and take a look at certain paintings with the whole group, will become an immaterial work of art. Photography or any other form of documentation will be banned.
The price for this work of art is € 600 - including the entry ticket to the Prado.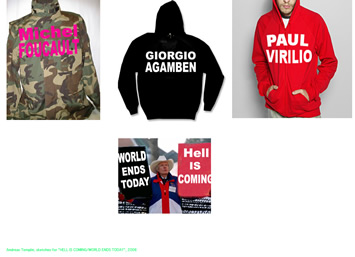 Untitled
een immaterieel kunstwerk in samenhang met Andreas Templins "Hell is Coming/World Ends Today", een interventie voor de openbare ruimte van Madrid, Madrid Abierto 2008
Inleiding
De voornaamste drijfveer van mijn artistieke productie wordt gekenmerkt door een impulsief gebruik van een breed scala van stijlen en gebaren. De laatste openbare kunstwerken die ik heb kunnen realiseren ("stormscene", in opdracht van de gemeenteraad vanNeurenberg/Duitsland, "Monument for Donatella Versace" Chicago/Berlin 2005, "gecrashte satelliet" 2006, verscheidene locaties), die handelden over "tweedehands ervaring" en ook over "niet-gewenste co-branding", blijven bestaan als kritische en diverse interventies van een zich onderscheidende kunstuiting in de praktijk, die "post-productief" bedoeld te zijn. in het werk "Hell is Coming/World Ends Today" wil ik de verwijzing laten zien naar de beweging van de situationisten, hun krachtige invloed en continue flow en, in verband daarmee, wijzen op enkele van de veelvoorkomende problemen waar iedere beweging de gevolgen van lijkt te ondervinden: Het ogenblik van de zuivere realisatie ervan door de geest van een individu tegenover de concurrentie van stijlen, houdingen en trendiness van specifieke concepten in de samenleving.
In dit geval de filosofische veronderstellingen met, naar mijn mening. de krachtigste en meest directe invloed op het individu in de Westerse samenlevingen
- snelheid en verwoesting/ Paul Virilio
- "the camp/ the concentration camp"/Agamben
- "power"/ Foucault
- "hatred/fundamentalism"/ weergegeven door Fred Phelps, prediker van de rechtervleugel (in de vorm van een dubbelganger)
zijn de elementen van de efemere interventie voor het publiek.
Ik zou deze filosofen willen overdragen in "labels" door inwoners van geselecteerde stadsdelen van Madrid te vragen gedurende één week tijdens hun dagelijkse bezigheden urban fashion-items met label-prints te dragen. Terwijl zij in de weer zijn met hun dagelijkse bezigheden, verzinkt het kunstwerk zelf in de stedelijke ruimte, gaan filosofische concepten face-to-face de strijd aan met andere label-concepten in het publieke domein.
De vraag die dit werk stelt: Zijn deze namen al "gelabeliseerd" (ofwel, zien mensen ze gewoon als labels) of dragen zij betekenis? Kan een dergelijke efemere interventie in de ogen van het publiek overleven als kunstwerk?

Behandeling
Het project duurt één week. 151 mensen (mannen & vrouwen) met verschillende achtergronden in de samenleving (allen woonachtig in de binnenstad van Madrid) worden geselecteerd door middel van een casting-procedure. Zij worden gecontracteerd om gedurende zeven dagen specifieke kleding te dragen.
De belangrijkste voorwaarde waaraan zij moeten voldoen om deel te nemen aan het kunstwerk, is
- zij verplaatsen zich in de City of Madrid (tijdens hun dagelijkse bezigheden)
- zij passen in de vereiste profielen
Deze profielen zijn:
-50 joggers/sportieve/jonge/gezonde mensen
rood "Paulo Virilio"- sportkleding/ T-shirt met lange mouw
-50 punks/"street level" "Michel Foucault"-
militair camouflagejack met roze "Michel Foucault"-print
-50 hardrockers/tattoo/gothic- "Giorgio Agamben"- zwarte sweater met capuchon
-één dubbelganger van Fred Phelps met body-sign "Hell is Coming/World Ends Today" (voor/achter) en zwart pak/zwarte hoed

Ten aanzien van de tentoonstelling van kunstwerken over immateriële kunst zou ik het volgende willen aanbieden: Ik loop door het Museo Nacional Prado met de koper van dit performance-kunstwerk, vergezeld van 50 van de deelnemers aan het project "Hell is coming/World Ends today". Dit performance-werk, waarin wij met elkaar door de Prado zullen lopen en met de gehele groep naar bepaalde schilderijen zullen kijken, wordt een immaterieel kunstwerk. Er zullen geen foto's mogen worden genomen en er zal ook geen andere vorm van documentatie worden gebruikt.
De prijs van dit kunstwerk is € 600.-, inclusief het toegangsbewijs voor het Prado.
Andreas Templin