Intellectual Entertainment Service
The Right Kind of Guest
Shake up you guests' perspective and your own.
Book a hip, smart and modish artist to make a great dinner party even more interesting.
English, German, French, Italian speaking
Contact: +44 7972 559959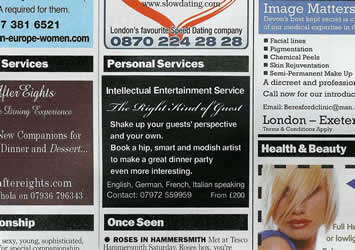 From: €400 (+ travel expenses)
Intellectual Entertainment Service – the escort agency for the mind.
Choose from our diverse selection of up- and coming artists to add to your already eclectic round of dinner guests. Let your intellect be challenged, widen your horizon – and feel like a nabob in his own empire.
Bringing back an old tradition of Mäzenatentum and totally in line with the current understanding of the artist as an accessory of the culture industry, we deliver super-contemporary art to your home.
Have you ever thought, that your social gatherings are good, but would not mind a bit of extra spice at the event? Here's your opportunity – invite a creative and interesting character and change your patterns of experience. Learn something new, by getting to know new faces – and maybe even a new face of you and your friends.
Now in Amsterdam!
RELATIONAL AESTHETICS DELIVERED TO YOUR DOORSTEP

Intellectual Entertainment Service
Het juiste soort gast
Bied uw gasten een heel ander perspectief en uzelf ook.
Boek een hippe, slimme, modieuze kunstenaar en maak een geweldig diner nog interessanter.
Engels, Duits, Frans, Italiaans sprekend
Contact: +44 7972 559959
Vanaf: € 400 (+ reiskosten)
Intellectual Entertainment Service –
het escortbureau voor de geest
Maak een keuze uit onze uitgebreide selectie van aanstormende kunstenaars die uw reeds eclectische gezelschap diner-gasten kunnen aanvullen. Laat uw intellect op de proef stellen, verbreed uw horizon - en voel u als een vorst in zijn eigen rijk.
Wij brengen een oude traditie van het mecenaat weer tot leven en wij leveren, geheel in lijn met de huidige opvatting van de kunstenaar als accessoire van de cultuurindustrie, super-eigentijdse kunst bij u thuis.
Hebt u ooit gedacht dat uw sociale bijeenkomsten wel geslaagd zijn, maar zou u het allemaal misschien wat spannender willen? Hier is uw kans – inviteer een creatief en interessant karakter en verander uw ervaringspatronen. Leer iets nieuws, door nieuwe gezichten te leren kennen - en misschien zelfs wel een nieuw gezicht van u en uw vrienden.
Nu in Amsterdam!
RELATIONELE ESTHETIEK AFGELEVERD BIJ U THUIS
Robin Bhattacharya en Larissa Hadjio