32 exercises (with colours, air, fruit, snow, animals, and others)
A choral trip on Trans Siberian Express and a concert on the Red Square in Beijing
A contribution for emerging artists
A conversation about art that will last as long as possible
A do-it-yourself method to make an instant distinction of good and bad
A guided tour to an abandoned shopping mall
A light effect in the sky that will hood the infinite
A place in the collection of photos to be potentially used for future projects
A quotation from The Anti-Oedipus
A travel to get in physical contact with raw materials
A visit to the artist in Oregon
An artwork to be read directly from the artist's brain
An open call to the chicken-breeders of the planet
Answering at the telephone and tell stories about Italian masterpieces, or about immateriality
Answers to questions about political and personal satisfaction
Be Me
Choosing a new day to celebrate Christmas
Collecting information about a list of unknown people, sent by the buyer
Collectively eating a cake that looks like a dead migrant on a beach
Compilations of visited URLS as archived from the web browser's "history" feature
Copyright on a sentence and a poster, for someone else than the buyer
Drawing a map of a top-secret airbase on a wall in a public space
Entering into a private apartment and do not tell anyone what is inside
Experiencing the screen test process and re-enacting a scene from your favourite film
Facial expressions for every day, from reading a newspaper
For only 0,55 Euro you are part of a collection!
Forwarding to the artist all the emails received from Africa
Gently assisting nature's instinct towards erosion
Giving a look to the artist's note book from the '70s
Giving another artist the possibility to participate at a show, at my place
Giving you a thought for as long as you live
Good thoughts that will make you happy
How to apologize for failing to meet deadline
Instructions to undertake a new career
Instructions for making a sentence impossible to be read entirely
Leasing a small portion of space in an artwork made by another artist, and use it
Be Me
I am currently working on an ongoing series of paintings called "Invisible Self-Portraits" which consist of paintings of Polaroids of myself taken in a mirror with a flash so that the flash obliterates my image leaving only the surroundings visible. The viewer has only my word for it that the photograph is actually of me. It's a series of self-portraits essentially that shows the viewer only my context, rather than myself.
Let's play a trick on the audience. If you send me a Polaroid of yourself in a mirror with a flash (so that you are not recognizable), I'll do a painting based on it and pass it off as a self-portrait. It will be our secret (although I'm not very good at keeping secrets. . .)
If you don't have a Polaroid camera, don't worry. Just take a regular photograph and I'll pretend that it's a Polaroid. I'll send you an image of our collaboration when I'm done.
If you'd like to see what the previous Invisible Self-Portraits look like, please go to www.ellenharvey.info and look under Projects-Invisible Self-Portraits.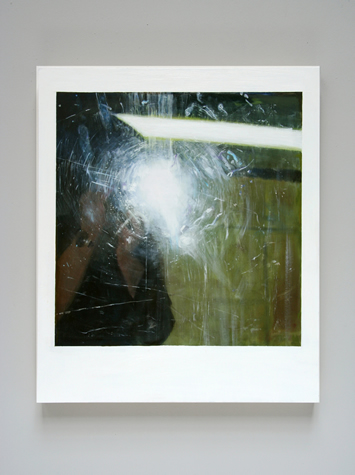 Ellen Harvey