Look! The Moon
The purchaser has to get the following equipment:
- double tent, igloo or standard type;
- sleeping bag, if needed, according to the season;
- small gas stove;
- minimal kitchen set for two people;
- enough food for a dinner and a breakfast for a couple of people.
With such equipment the purchaser has to go, using a vehicle (car, motorbike, bicycle), or walking, to a gypsy camp at his choice and ask the people there to give him hospitality for one night, either inside the camp, or, if they prefer, in its immediate vicinities. If requested, the purchaser is allowed to say that he wants to do so because he does not feel safe to sleep in the open air and far from a city centre; he can also say that the presence of people who are used to live in informal settlements and to change place often, makes him feel safer.
Whatever could happen during that night, such as exchange of visits, information and experiences; sleeping or eating with someone else or alone etc., all this will belong in a strictly personal way to the purchaser who will be allowed to tell the story to others only orally.
Price € 3.000

Guarda! La luna
Il progetto prevede che l'acquirente dell'opera debba munirsi del seguente materiale:
- tenda a due posti, modello canadese o igloo;
- eventuale sacco a pelo a seconda della stagione;
- fornelletto a gas;
- spartano set da cucina per preparare un pasto e servirlo per due persone;
- cibo a propria scelta per una cena e una prima colazione per un paio di persone;
Una volta raccolto il materiale l'acquirente deve recarsi con un mezzo di locomozione a sua scelta (automobile, motocicletta, bicicletta, a piedi o altro) in un campo rom a suo piacimento e chiedere ospitalità per una notte all'interno del campo o, se gli abitanti del campo preferiscono, nelle immediate vicinanze. Se richiesto, l'acquirente può spiegare che si sente insicuro di dormire all'aperto lontano da un centro abitato e che la presenza di persone che vivono in abitazioni di fortuna e che sono abituate a dover cambiare sovente il luogo dove dormire, lo rassicurano.
Quello che succederà in quella notte: scambio di visite, informazioni, esperienze, dormire e mangiare in compagnia o solitudine - sarà bagaglio strettamente personale dell'acquirente che potrà divulgarlo solo oralmente.
Edizione 1/3
Prezzo dell'opera: € 3.000.
Berlino 11 febbraio 2008
Luca Vitone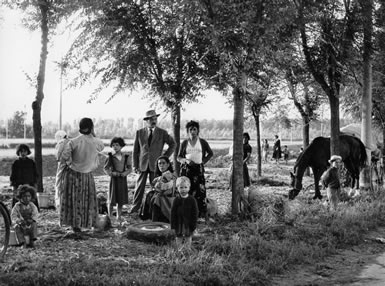 Pinot Gallizio with a group of gypsies on the Tanaro River (c. 1955)