The apprentice astronomer
Staring some drawings in the sky following the sky signs
The collector, after a walk with the artist in any park, garden or wood (possibly not in the city), will lie down on a blanket to observe the clouds, until it will be enough.
The artist, going by the observations of the moment, will draw on a stone, on the ground or on a dry trunk, the shapes that the clouds will suggest to the collector's fantasy.
After the twilight, the night will come back and they will observe the stars, thanks to the bright marks, to find the same shapes of the drawings or their changes.
The opposite discovering process is possible too.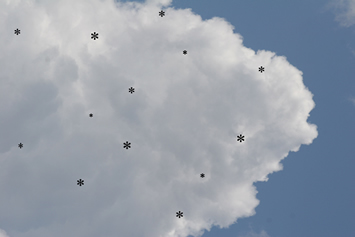 Price will be set on the basis of the satisfaction, in addition to the charges for the journey, board and lodging of the artist.

L'apprendista astronomo
Osservare alcuni disegni nel cielo seguendo le indicazioni del cielo
Il collezionista dopo una breve passeggiata con l'artista in un qualsiasi parco, giardino o bosco (preferibilmente non in città) si sdraierà su di una coperta ad osservare le nuvole fino a che, di comune accordo, lo si riterrà sufficiente.
L'artista basandosi sulle osservazioni del momento disegnerà le forme che le nuvole suggeriranno alla fantasia del collezionista su di un sasso, sulla terra o su di un tronco d'albero secco.
Dopo il crepuscolo si ritornerà la sera per osservare le stelle e ritrovare, grazie alle indicazioni dei punti luminosi, le stesse forme dei disegni o le modificazioni che esse hanno subito dopo averle scoperte tra le nuvole.
E' inteso che sia possibile anche il procedimento di scoperta inverso.
Giovanni Ferrario