See you at the Smoking Salmon
(2012)
3392154XXX: See you at the Smoking Salmon.
3203351XXX: The salmon is vacuum smoked.
3392154XXX: Where does the smoke come from?
3203351XXX: Carrefour, 55 Via Monti, Milan, detergents aisle, h 18.25. Come alone.
3392154XXX: How will I recognize you?
3203351XXX: By the smell.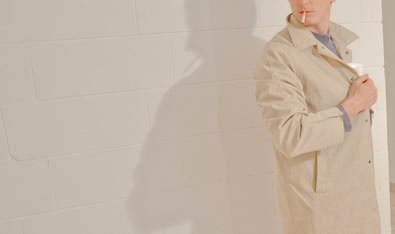 An incognito appointment within supermarket aisles with an expert smoked salmon shoplifter.
When Mxxxxxxx goes shopping, he stages a personal version of proletarian expropriation. Besides bread and water, he sometimes allows himself some luxury food, mainly smoked salmon (or alternatively extra-fine chocolate). However, the salmon never passes through the hands of the cashier.
We offer an individual lesson to learn the tricks of the trade: locating any CCTV cameras, acting ease, eluding the cashier's suspicion, pretending indignation if checked, covering up if discovered.
A reflection - through transgression - upon an idea of legality that implies social inequalities (including dietary ones)
An Individual lesson of 15', place and time will be indicated by Mxxxxxxx.
Edition of 10.
Price: you keep the salmon; Mxxxxxxx keeps the rest of the shopping (€30 worth of goods).
Daniele Maffeis